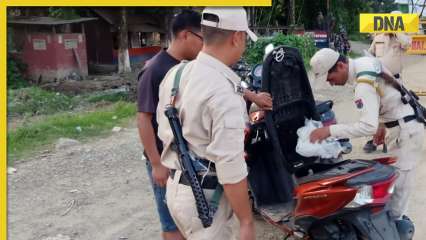 NGO Co-Ordination Committee will stage demonstrations across the state on Tuesday (July 25) to extend solidarity to the Zo ethnic people in strife-torn Manipur.
Security was beefed up across Mizoram on Sunday ahead of state-wide protests by Mizo organisations against violence in Manipur and amid reports of Meiteis leaving the state after a statement by an ex-militant group, police said.
While 78 people flew to Manipur on Sunday in three flights, 65 people travelled to the neighbouring state on Saturday. However, it was not immediately clear how many of these people were regular passengers, and how many were fleeing out of fear as these were scheduled commercial flights, officials said.
Another 41 Meitei people from Mizoram went to Assam's Cachar district by road after the ex-militants' group asked the community to leave the state following the viral video of two women being paraded naked in Manipur, they said. Also, 31 Mizo students from Manipur returned to Mizoram due to the prevailing situation there, they added.
NGO Co-Ordination Committee, a conglomerate of five major civil society organisations including the Central Young Mizo Association (CYMA) and Mizo Zirlai Pawl (MZP), will stage demonstrations across the state on Tuesday to extend solidarity to the Zo ethnic people in strife-torn Manipur.
READ | Rajasthan: Restaurant owner beaten to death by employees over food preparation
Mizoram's Director-General of Police (DGP) Anil Shukla held a high-level meeting on Sunday to assess the security arrangements, a statement said. Measures taken to ensure the safety and security of Meitei people in various parts of the state were also reviewed, it said.
Shukla directed police officers to ensure proper deployment, patrolling, and vigilance in all districts, especially in vulnerable areas, to prevent any untoward incidents. He emphasized the need for a sufficient number of reserve forces with vehicles and officers to facilitate quick deployment in case of any incident.
The DGP and a team of senior police officers also visited locations in Aizawl where the demonstration will be held on Tuesday. The state police along with administrative officials are maintaining a close watch on the situation, the statement said.
Senior officers and police personnel are working to ensure the safety and security of Manipuri people living in various parts of Mizoram, it said. Underscoring its commitment to protecting all citizens and upholding communal harmony, the state police also urged civil society organisations, NGOs and the public to assist them in maintaining peace and tranquility.
On Saturday, Mizoram Home Secretary H Lalengmawia held a meeting with leaders of the Meitei community and assured them of safety and security. The Peace Accord MNF Returnees' Association (PAMRA) later also clarified that the statement it issued was misconstrued. It said the statement was issued as an advisory requesting the Meitei community living in Mizoram to exercise caution in light of public sentiments regarding the ongoing ethnic conflict in Manipur.
#Security #beefed #Mizoram #ahead #statewide #protests #July