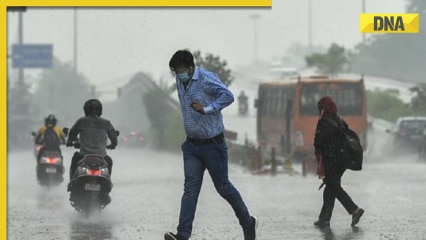 The IMD has issued an important weather update where it predicted heavy rains in multiple districts and states over the course of the next four days.
As untimely rains and unpredictable weather continue in multiple states across the country, the Indian Meteorological Department (IMD) has issued an important rainfall alert for several states, announcing a red and orange alert in multiple areas due to adverse weather conditions.
According to the latest IMD update, heavy rainfalls are expected to lash multiple states for the next four days, most notably till July 26. This fresh bout of rain is also expected to bring more landslides in Himachal Pradesh and other hilly areas of the country.
The IMD update states that light to moderate rainfalls are expected to lash parts of Himachal Pradesh and Uttarakhand on July 24 and July 25. Apart from this, light rains are also expected in Haryana and Chandigarh till July 26, according to the forecast.
Similar rainfall conditions are expected in Uttar Pradesh and Rajasthan from July 24. However, no rains have been predicted in Delhi NCR for this week yet, with the national capital's Yamuna water level already past the danger level mark.
Apart from this, a heavy rainfall alert has also been issued for Gujarat and Goa from July 24 to 26, and parts of Maharashtra till July 26. Isolated heavy rainfall is expected to lash Mumbai for the next three days, with an orange alert issued in the Maharashtra city.
A red alert has been issued in Gujarat and Maharashtra for the upcoming days, while an orange alert has been issued in Madhya Pradesh, Karnataka, Odisha, Goa, and Kerala due to the prediction of heavy rains and thunderstorms.
While talking about northeast India, IMD said in a statement, "Light/moderate fairly widespread rainfall likely over the region. Isolated heavy rainfall over Nagaland, Manipur, Mizoram, and Tripura during July 22 and 26; over Assam and Meghalaya during July 22-24 and 26 and over Arunachal Pradesh during July 22-24."
READ | Weather update: Red and orange alerts issued for 7 states amid heavy rainfall; check latest IMD forecast
#Heavy #rainfall #states #IMD #issues #red #orange #alert #days #check #statewise #forecast