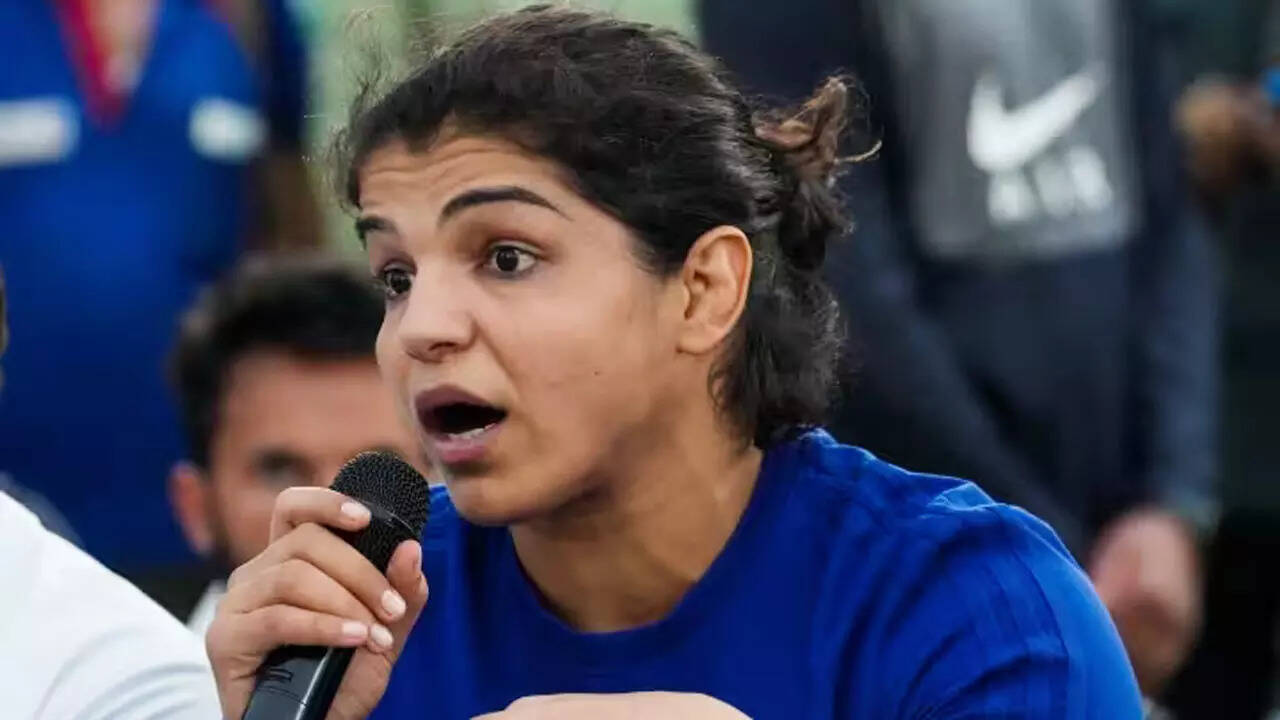 NEW DELHI: Olympic medallist Sakshi Malik made serious allegations on Thursday, stating that the government's decision to exempt Vinesh Phogat and Bajrang Punia from Asian Games trials was an attempt to "break the unity of the wrestlers."
Sakshi clarified that she had never requested any exemption from the trials, despite the ad-hoc panel of the Indian Olympic Association (IOA) offering to consider her case on the lines of Vinesh and Bajrang.
Sakshi, who competes in the 62kg category, along with Vinesh (53kg) and Bajrang (65kg), was actively involved in leading protests against the outgoing Wrestling Federation of India (WFI) chief Brij Bhushan Sharan Singh. He was recently granted bail from a Delhi court after facing allegations of sexual harassment.
The IOA ad-hoc panel led by Bhupinder Bajwa courted controversy on Tuesday after granting exemptions to Bajrang and Vinesh without following due protocols, forcing U-20 world champion Antim Panghal and 65kg grappler Sujit Kalkal to approach the Delhi High Court to get the decision overturned.
"As you all know, we had requested the government for additional time for preparing for the Asian Games. We had requested them to hold our trials after August 10, and the government gave us time as well, following which we came out here for training.
"But, over the last 3-4 days, it has emerged that direct entries are being sent for two weights (categories)," Sakshi, who is currently training in the US, said.
She made it clear that she is against exemptions, and hence, turned down an offer where her name would have also been considered on account of being an Olympic medallist.
"I was also told to e-mail, that my name would be considered too. But I have refused, I do not want to go without the trials," Sakshi said.
"Neither have I gone (to any tournament) without any trials nor I want to do it now. We had only discussed about time (extension) that our trials should be held after August 10 — which is not happening.
"I only want to say that everyone should get justice and chance for fair selections," Sakshi further said.
Before that, in a tweet she alleged that this was an attempt to create discord between the top wrestlers, who were involved in a month-long protest against Singh but are now being perceived as opportunists looking to find an easier route to the continental showpiece.
"The government has attempted to break the unity between the wrestlers by sending their names directly," Malik wrote in a tweet.
"I am concerned about the intentions behind this act from the government. We had requested them to postpone the dates of the trials, but the government has brought infamy upon us by doing so," Malik added.
(With PTI inputs)


#Exemption #Asian #Games #trials #attempt #government #break #unity #wrestlers #alleges #Sakshi #Malik #sports #News