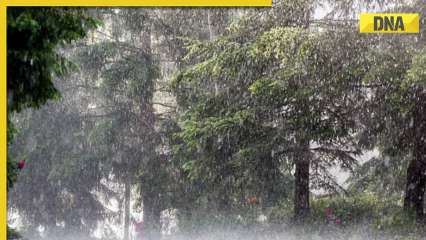 IMD issues alerts for heavy rainfall in multiple Indian states.
The India Meteorological Department (IMD) has issued a red alert for Telangana, Gujarat, coastal Maharashtra, and Goa as they are expected to experience extremely heavy rainfall. Additionally, an orange alert has been sounded for states including Uttarakhand, Rajasthan, Madhya Pradesh, Odisha, and Chattisgarh, where very heavy rainfall is predicted. The IMD highlighted that Raigad witnessed exceptional heavy rainfall during this period.
Rains continued to lash Telangana for the third day in a row on Thursday causing water logging and traffic snarls at several localities in Hyderabad and inundating low-lying areas in some places in the state.
Authorities have declared holiday for schools on Friday and Saturday in Palghar and Thane in view of a red alert issued by the India Meteorological Department for very heavy rains, an official said.
The IMD forecast issued on Thursday said 'heavy to very heavy' rainfall was likely in several places in Palghar and Thane over the next 48 hours.
Three persons died on Thursday in separate rain-related incidents in Maharashtra's Palghar district, which witnessed heavy rainfall for the third consecutive day, an official said.
(With inputs from PTI)
Read more: Manipur video shocker: Fake news led to women being paraded naked, raped; victim's teen brother killed
#IMD #issues #red #orange #alerts #heavy #rainfall #statescheckfulllist